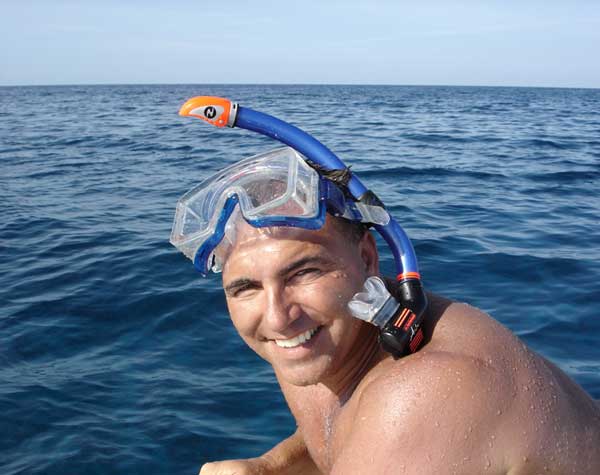 D
ean Bernal has been likened to "a cross between Dian Fossey, Jane Goodall, and Crocodile Dundee". Excerpts from the story of Dean and JoJo have been featured in countless books, TV specials and movies including the Academy Award nominated IMAX film Dolphins, narrated by Pierce Brosnan, two PBS specials: In the Wild: Dolphins with Robin Williams, and Dolphins: Close Encounters with George Page, and they were featured on Peter Jennings' World News Tonight. BBC, Cousteau and Nature specials have also feature excerpts of their story.
Dean has even received letters praising his conservation work from the British Royal Family. His work has appeared in such magazines as Cousteau, Esquire, Discover, People, GEO, National Geographic companion book to the Dolphin's IMAX film, and National Geographic Kids Magazine. Parts of Dean and JoJo's story have also been published with Jane Goodall, Tim Cahill, Cynthia Moss, Hermann Sülberg, and Johanna Weland and also published in numerous other quality books.
Dean Bernal was raised in California coastal communities and graduated from the University of California, Santa Barbara. Dean first visited the Turks and Caicos Islands in 1984. Three small sociable dolphins swam in the shallow coastal waters. One would become known as JoJo and befriended by Dean and many island residents. The life of JoJo seems legendary, but the Picture is created directly from the observations, and research recorded by Dean Bernal on his amazing and heart warming journeys with JoJo.
Dean created The Marine Wildlife Foundation to protect lone dolphins like JoJo by providing legal protection, medical attention, public education and research. JoJo was declared a National Treasure of the Turks and Caicos Islands, and JoJo's caretaker and friend, Dean, was appointed his official warden. Dean continues his work and is now on a mission to fulfill THE DEAN AND JOJO STORY.
Dean Bernal is a spokesperson, film producer and director, wildlife advocate. Projects coinciding with this film include: THE DEAN AND JOJO STORY book, Whale and Dolphin Expedition Programs, a children's book; The Dean and JoJo Children's Story, a Children's Enrichment Therapy Program and a JoJo Collection product line.
Dean has been a keynote speaker and lecturer at numerous colleges and universities, film premieres, and at the Royal Geographic Society in London. He has participated in lecture series with film promotions with the Adventure Writer Tim Cahill; Underwater Explorer Jennifer Carter; Marine Biologist, Eugenie Clark, Jean-Michel Cousteau, Sylvia Earle, Virginia McKenna, Richard Ellis, Chris Newbert & Birgitte Wilms, Roger Payne, Jim Stewart, Bob Talbot, Stan Waterman, Wyland, and many others. Dean Bernal is available for promotion, marketing, lecture and presentation tours for the release and promotion of THE DEAN AND JOJO STORY, A Feature Film Documentary.
"

Dean's a rare species. Dean and JoJo have known each other for over two decades and Dean's amazing ability in the water makes him the perfect companion for JoJo and he found a great opportunity to study a wild dolphin. The fact that Dean can hold his breath for about five minutes, to a dolphin it's like saying, I like that! He must not seem like a regular human to them. Dean and JoJo obviously have a physical comedy of which they are playing. They're expression is like, 'What? Hay! Come'on, I've been around for 30 million years and I like you guys, you're wild!' I think JoJo and Dean are party mammals.

"